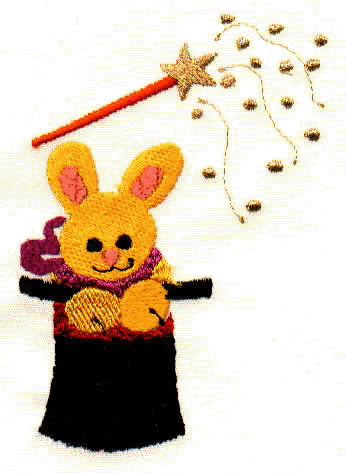 Welcome to

Magical Machine Embroidery is the home of totally original designs. Many designs are offered in different sizes and they have been digitized separately so that density is consistent. We have used many different kinds of threads so you can see how different designs will look if you want to experiment. We are always open to suggestions for designs and will try to fill all of your needs. So come on in and have a good time.
We want you to use these designs on any thing for your self or for sale. However you may not resell these designs to anyone else.
ALL NEW LOWER PRICES AND SINGLE DESIGN SALES!!!!!!

NEW BOSTON TERRIER AND A BEAGLE AND CAVALIER KING CHARLES SPANIEL HAVE BEEN ADDED TO THE WONDERFUL DOGS PAGE!
FOR A SHORT TIME ALL DOG DESIGNS WILL BE ON SALE FOR OVER 30% OFF!!!
Click on either dog go to the dog page!
WE HAVE ADDED ONE NEW SET THIS WEEK!
Beautiful Flowers Set II

BEAUTIFUL FLOWERS SETS 1 AND 2 ARE ALSO ON SALE FOR A SHORT TIME FOR 50% OFF !!!!
CLICK HERE TO SEE THE WHOLE SET

I AM NOW DOING ALL SALES DIRECTLY FROM THE WEB SITE. I DO NOT HAVE INSTANT DOWNLOAD SO I SEND ALL FILES OUT MYSELF. IT MAY TAKE 24 TO 48 HOURS TO HAVE YOUR DESIGNS DELIVERED AS I AM NOT ON THE COMPUTER 24 HOURS A DAY. I WILL DO MY VERY BEST TO GET THEM TO YOU AS QUICKLY AS POSSIBLE.
I HAVE STARTED A NEW GROUP BESIDES MY BRAVE NET LIST SO IF YOU ARE A MEMBER OF THAT LIST YOU WILL NEED TO SIGN UP ON MY YAHOO GROUP . IF YOU REFER 10 PEOPLE TO JOIN THE NEWSLETTER I WILL GIVE YOU A COLLECTION FREE OF YOUR CHOICE. SO BE SURE TO HAVE YOUR FRIEND MENTION YOUR NAME WHEN THEY SIGN UP!
THERE WILL BE SPECIAL OFFERS FOR LIST MEMBERS!!
Click to join MagicalMachineEmbroidery

Also join our fully featured Bravenet List
Check out our Christmas Tree Class!!

Please show me where you live on my Guest Map!



Visit these links to learn more about how to download, use and save designs from the internet.


© All designs are copyrighted by Magical Machine Embroidery and may not be duplicated or changed. No graphics on the page may be duplicated. You may download our free designs for personal use and for gifts or items for sale. However, you may not include these designs in any collection for sale or distribution. Any design wanted for mass production requires permission from Magical Machine Embroidery.